Christmas presents for local kids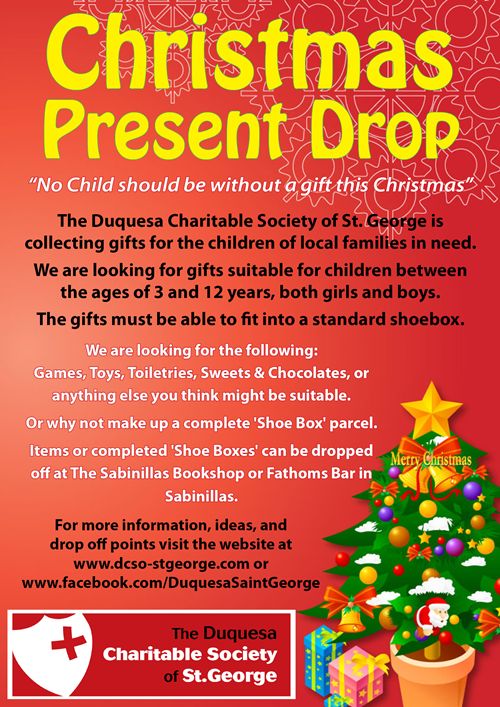 The Duquesa Charitable Society of Saint George has launched its Christmas campaign to provide presents for the children of local families who are experiencing serious economic hardship.
Manilva's Social Services department has identified some 250 plus children between the ages of three and twelve who fall into this category and it is the Charity's aim to provide a suitable present for each and every one of them according to their age and gender.
The presents will consist of a shoebox containing gifts that will be presented to the children's parents who can then give them to their kids on Christmas Day or Three Kings.
There are two ways in which people can contribute to this project:
You can drop off items suitable for children between three and twelve years old, such as toys, games, toiletries, sweets, chocolate, etc., or;
You can provide a completed 'shoebox' (we would ask that you keep to this size for logistic reasons).
Items can be dropped off at the Sabinillas Bookshop or Fathoms Bar, Calle Duquesa de Arcos, Sabinillas.
Let's make sure every child has a happy Christmas this year through this simple gesture.
Businesses, if you would to offer to act as a drop off point please contact us through the Facebook page or email president@dcso-stgeorge.com
If you'd like to download an print off a poster to put in you shop window, office noticeboard, or anywhere that you think it will get noticed, we'd be eternally grateful.