Duquesa Charity presents 1000 euros to Age Concern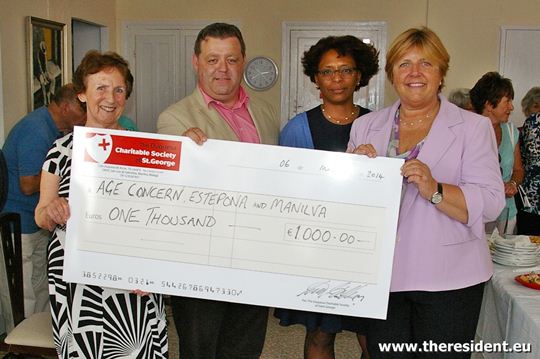 Left to right: Eileen Dry, Age Concern President, Dean Shelton,
Charmaine Arbouin, British Consul, and Rosslyn Crotty, British Vice-Consul
The President of Manilva's Duquesa Charitable Society of St George, Dean Shelton, attended a volunteers' lunch at which the British Consul for Andalucia and the Canary Islands, Charmaine Arbouin, and the Vice-Consul, Rosslyn Crotty, were visiting.
During the event the Saint George Charity took the opportunity to present Age Concern with a cheque for 1,000 euros, the first of a number of donations the charity intends to present to a number of local causes over the coming weeks.
The cheque was gratefully received by Age Concern President, Eileen Dry.