End of Summer Charity Bash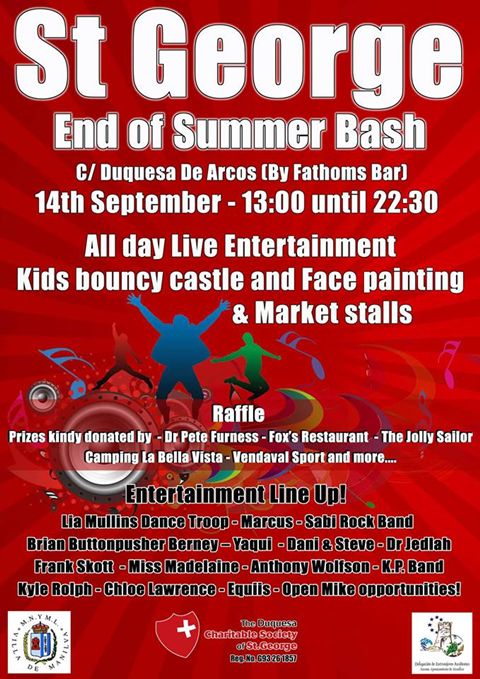 This year's St George End of Summer Bash will be held in Calle Duquesa de Arcos in front of Fathoms Bar from 1 pm to 10.30 pm on Saturday September 14.
Raising money for the Duquesa Charitable Society of Saint George there is a packed programme of music and activities with bouncy castle and face painting for the kids, along with market stalls and a line-up of local musicians including: Lia Mullins Dance Troop, Marcus Myers, Sabi Rock Band, Brian Buttonpusher Berney, Yaqui, Dani & Steve, De Jediah, Frank Skott, Miss Madelaine, Anthony Wolfson, KP Band, Kyle Rolph, Chloe Lawrence, Equiis, plus…
The will also be a grand charity raffle with prizes donated by Dr Peter Furness, Fox's, Jolly Sailor Duquesa, Camping La Bella Vista, Vendaval Sport, and many more.
The event is hosted by Manilva Foreign Residents Department in collaboration with The Duquesa Charitable Society of St George.
The society is currently looking into opening a charity shop with an immediate view to provide monthly food packages and clothing to local families in need.