Local resident and St George Charity donate hospital beds to Hogar Marillac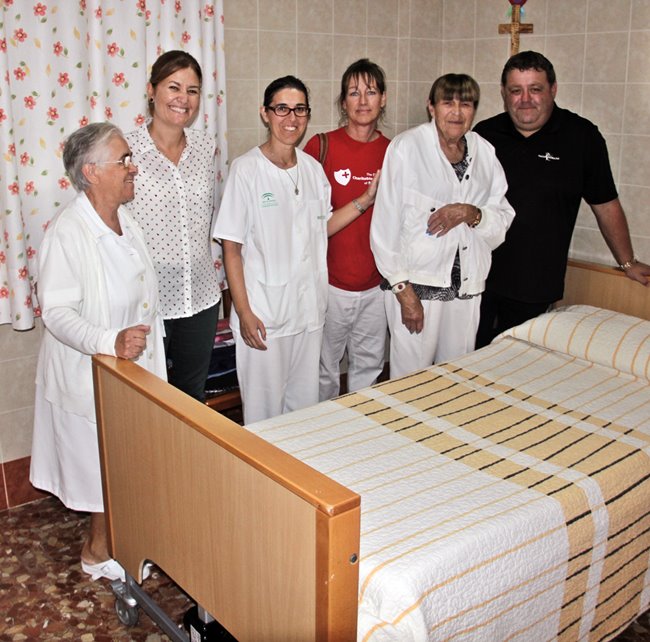 As part of the Duquesa Charitable Society of Saint George's policy to support a wide range of good causes in the local community the St George Charity is proud to provide three electrically operated hospital beds to the Hogar Marillac home in La Linea.
Two of the beds were kindly donated by Guadiaro resident Irene Kemm, and the third was purchased by the Charity from a local source.
Hogar Marillac is run by the religious order Hijas de la Caridad de San Vicente de Paul (Sisters of Charity) and houses some 15 men, in their 40s and 50s, most of whom have been drug addicts and the majority suffering from HIV and AIDS and other physical and mental problems as a result of their drug use and poverty.
The residents receive treatment for their addictions and health issues as well as joining in educational classes such as reading and writing, a basic skill many of them lack, as well as basic IT, arts and crafts, etc. Without Hogar Marillac most of the men would be homeless and would probably lapse back into addiction and ill health, and the inevitable early death that goes with that way of life.
The Sisters at Hogar Marillac are in the process of purchasing a minibus and have received a generous donation from La Caixa bank's social fund for that purpose, although it leaves them short of the full amount, the Saint George Charity has committed to making up the shortfall.
If you'd like to donate this worthy cause then please give generously, either at either of the St George Charity shops in Sabinillas or direct into the charity's bank account: La Caixa Bank; Name of Account Holder: Duquesa Charitable Society of St George; Account Number: 2100 2671 77 0210252624.