Sabi Street Party raises nearly 1100 euros for St George Charity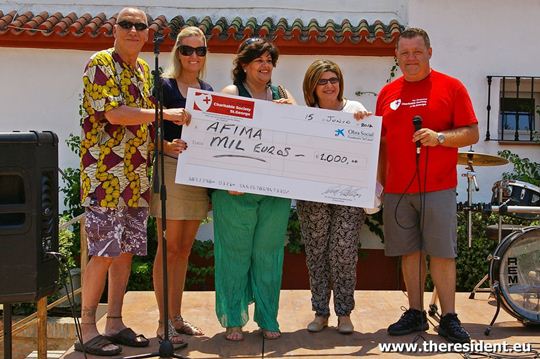 Once again, there are far too many good people to thank for the success of the Manilva Foreign Residents "welcome to the summer" Sabi Street Party, in collaboration with the St. George Charity, which was held on Sunday 15th June. However, I will try all the same.
So, in no particular order, I would like to mention, and I am sorry if I have missed anybody:
Phil Evans & all the members of the Sabi Allstars Rock Band, Andrew Charles, Gary Beaumont from The Resident, Diego Urieta, Manilva Foreign Residents, Gary Fearon, Mitch, Daniela Caballero, Carol Hoffland, Denise Ewing, Andrew Webster, Hilary Warren, Mick Shenton, Mark Edmondson, Paqui Tome, Valentina Radu, Sam Oliver, Mandy Lovett, La Caixa Bank, Lorraine Mace, Jan Mitchell, Pete Black, Las Palmeras Band, D's Bar, O'Callaghans Bar, Graingers Bar, Piano Club, The Music Room, all the many different people that donated raffle Prizes etc., the community of Punta Almina and surrounding area for putting up with us and, last of all, everybody that turned up on the day to support the event, which I am very proud to announce helped us raise 1,082 Euros – slightly more than the amount of 1,000 Euros that we gave out on the day to local Manilva Fibromyalgia charity, AFIMA.
Dean Shelton
President