Saint George Charity discover at first hand the work of Estepona's social kitchen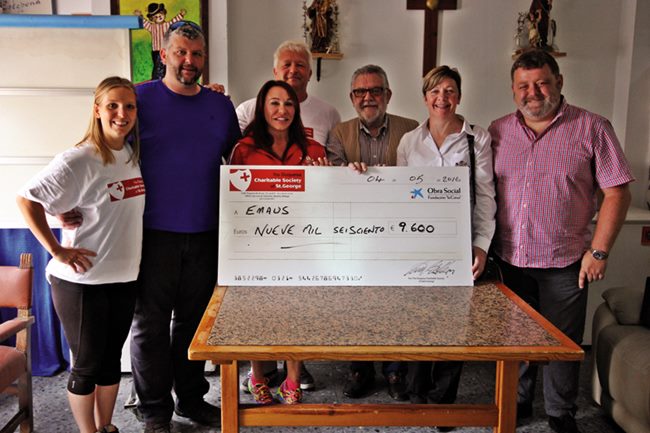 Saint George Charity Committee members and volunteers were joined by representatives from Manilva Town Hall at a lunch hosted by Emaus Obra de Amor who run the social kitchen in Estepona.
The event was to raise awareness with the volunteers as to the work of the social kitchen and for them to see some of the benefits provided by their hard work in the Saint George Charity's shops, markets, and events.
The Saint George Charity also took the opportunity to present a cheque for 9,600 euros for the 'Feed a Child' project which aims to provide a packed breakfast for 40 schoolkids who otherwise would go without this most important of meals.
Also there for the presentation were Jojo France and Janice Haycock of Kiddibank nursery school whose hard work had made the project possible.
The goal is to provide packed lunches for the many children that go hungry during the school day.
Every parent knows, and research has proven, that a hungry child finds it difficult to concentrate and therefore will underachieve at school. Education is the key to breaking the poverty cycle and therefore we have teamed up with Emaus Obra de Amor, who run six social kitchens throughout Málaga Province, to distribute lunch packs to these children who would otherwise go without food during school hours.
Everyone enjoyed the meal which was identical to the food distributed to the kitchen's 'customers', many of whom remarked how tasty it was, and that just because it was a soup kitchen didn't mean the food had to be bland and uninteresting.
The Saint George Charity is pleased to collaborate with Emaus and all the good work they do to relieve hunger in the Province.