St George Charity helps fund Manilva firefighter's rescue mission to Lesbos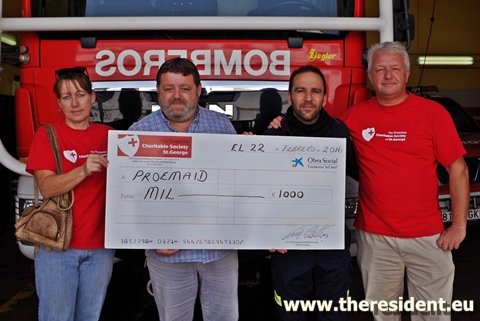 The Duquesa Charitable Society of St George takes great pleasure in providing a cheque for 1,000 euros to the NGO Proem-Aid, a charity providing teams of emergency personnel to assist in rescue operations off the coast of the Greek island of Lesbos.
Members of the St George Charity's committee met with Antonio García Ocón, a firefighter based at the Manilva fire station, who is one of a six man team drawn from various stations throughout the Malaga province setting off on 4 March for a 15 day mission to the Greek island rescuing refugees from war-torn Syria, Iraq and Afghanistan who get into difficulties whilst making the crossing from Turkey to Greece.
All Proem-Aid volunteers are specialists in sea rescues, paramedics, divers, etc., who work in conjunction with the Greek coastguard and other emergency services to rescue people from the unseaworthy vessels that unscrupulous traffickers pack them into for the journey.
On Lesbos some 1000 refugees arrive daily, many of whom have to be rescued from the seas around the island.
Dean Shelton, Gary and Judith Beaumont, the St George Charity's President, Vice-President and Secretary respectively, thanked Antonio on behalf of the Charity and its supporters for his selfless work and wished him a safe and successful mission.