Win an 8 day Mediterranean Cruise with the First Aid Africa/Saint George Charity raffle
Manilva res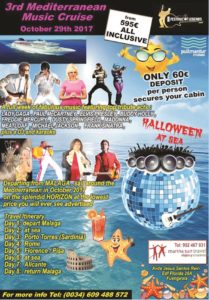 ident Angela Ferguson has been chosen to go on a month long expedition to help provide first aid training in rural Africa with the NGO First Aid Africa.
To raise funds for this important charity Angela, in collaboration with the Duquesa Charitable Society of Saint George has organised a raffle with a prize of a pair of tickets for an eight day/7 night Mediterranean "Festival of Legends" Cruise.
The 3rd Festival Of Legends Mediterranean Cruise, will depart Malaga on October 29th 2017.
This cruise is "all inclusive", and is for 8 days and 7 nights.
The PULLMANTUR ship is the HORIZON, with stops in Sardinia, Rome, Florence/Pisa and Alicante.
On board nightly entertainment, exclusive only to clients with Festival Of Legends, will be tributes to: Madonna, Buddy Holly, Paul McCartney, Elvis Presley, Frank Sinatra, Meatloaf, Dusty Springfield, "Motown Legends", Freddie Mercury, Michael Jackson, Lady Gaga, plus resident DJ and Karaoke.
Tickets are just 25 euros each and limited to a maximum number of 200 tickets, giving everyone a great chance of winning.
Tickets are available at Mil Colores or the Sabinillas Bookshop.
First Aid Africa
First Aid Africa works to provide, and encourage access to, sustainable first aid equipment and education across sub-Saharan Africa. Our courses concentrate on providing sustainable training, which doesn't rely on imported equipment or western handouts.
Making a real difference in people's lives in Africa by providing them with the knowledge to administer first aid within their own community. This training can and does save lives through supplying sustainable emergency equipment and education, First Aid Africa provide healthcare solution to benefit the public.
For more information and to sponsor Angela visit her fundraising page at: www.totalgiving.co.uk/mypage/angelaferguson